The Six Greatest Card Tricks in the History of Magic by Rick Lax and Justin Flom (Instant Download)
Six incredible miracles designed for the modern performer. Part love letter, part manifesto, this collection is packed with thought-provoking ideas, and of course, the greatest tricks ever.
"I am always jealous of these two guys, and now these great card tricks just gave me one more reason to hate them." -Lu Chen, Merlin Award winning star of CCTV New Year's Gala

"If I could only do 6 cards tricks for the rest of my life. These would be it." -Nick Locapo, creator of Pinky Thing

"What?? These are actual good tricks! -Alex Boyer, star of Big Trick Energy

"Whatever you think of Justin and Rick personally there is no denying they are brilliant magicians. Rick is responsible for some of my favourite effects of all time. On this project they showcase why they are so good at magic. The material is strong, powerful, heavy hitting and commercial. If you are into close up magic there will absolutely be a stack of material on here you will love." -Craig Petty, creator of Chop and Quantum Deck

"Surefire, battle-tested routines to use whenever huge reactions and big laughs are a necessity.
Each of these routines are hardwired with spectacular moments that burrow themselves into the spectator's memories that last long after the performance." -Adam Trent, star of The Magic Maker (ABC, Hulu, Disney+)

"Lots of great ideas and twists on impromptu card tricks anyone you can perform anywhere." - Xavier Mortimer

"If Justin Flom and Rick Lax were a spice they would be flour. I'm also willing to bet that their parents change the subject when people ask about them. With that being said, if you want to spend money on card tricks suggest picking this up.." -PigCake, some YouTube guy

"Rick Lax and Justin Flom have theory and presentation ideas that will take your magic from your crusty bedroom out to the real world. These 6 card tricks are fun, engaging, and above all entertaining for spectator AND performer. No fancy shuffles or cuts but a few weird angles that make complete sense. There are some self working brilliance that everyone should pay attention to. The sleights are easy for all levels to execute yet deeply deceptive. The routines are contemporary and allow the performer to have the freedom to play in a non-creepy magician way." -Billy Kidd, star of Discovery Channel's "Breaking Magic" and HBO's upcoming "The Baby"

"With a borrowed, shuffled pack of cards and an eye towards how to entertain with real world blockbusters, the audience reactions say it all." -Gregory Wilson, creator of Hundy 500 and Fistful of Dollars

"Freakout is honestly one of the coolest and most innovative new presentations for an effect, and I can't wait to perform it." -Erik Tait, creator of Ultra Lucky Coin

"A great introduction to miracle card magic!" -Luis de Matos

"This is not just a collection of some of the most deceptive and easy to learn card tricks in the world, this is a master class on performing magic tricks in the real world, for real people. Ricky and Justin share invaluable bits of advice that come from real-world experience, self-awareness, and refreshing honesty." -Ryan Stock, from AGT Champions, and star of Guinea Pig on Discovery Channel

Between the two of them, they have fooled Penn & Teller, created the hit TV Show Wizard Wars, and produced some of the most viral magic ever to hit the internet. Now, they are here to teach you the six greatest card tricks in the history of magic. Period. End of discussion. If there were better card tricks, you'd be learning those. But there aren't. These are The Six Greatest Card Tricks in the History of Magic by Justin Flom and Rick Lax.

Look, we know this is expensive. $150 is a lot to pay for card tricks, especially for 'just a download.' But these tricks are worth it. We promise. These six tricks are all you need. In addition to expert instructions on these tricks that use simple sleights, no gimmicks, and no setup, you'll receive the hard-won advice of two magicians that have performed everywhere under some of the most demanding conditions. Stop performing normal card tricks. Start performing The Six Greatest Card Tricks in the History of Magic by Rick Lax and Justin Flom
---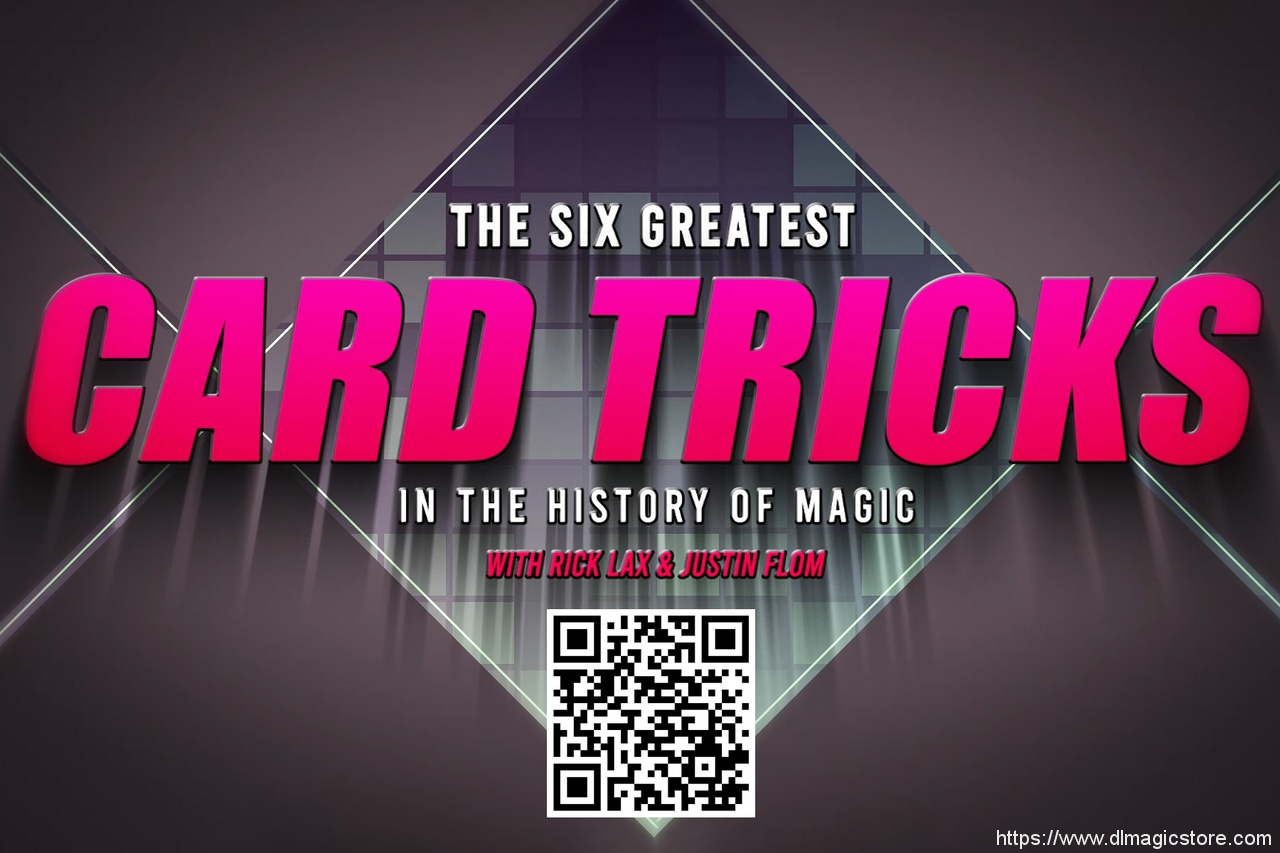 The following is the process you should take to complete your order through bank to bank transfer:
1. Please go to your bank (through online banking, ATM or going into a branch) and complete the transfer of money. Make sure that the amount you transfer is the exact total of your order. Payment details below:
- If your bank is located in Austria, Germany, Spain, France, United Kingdom, Italy, Netherlands, Belgium, Finland, Greece or Luxemburg you will pay to our WorldPay bank. You will see the bank details once you have placed the order.
PLEASE NOTE: If you are paying to our WorldPay bank you MUST include the Unique Payment Reference Number (you will receive this directly after paying the order) in the description section when completing payment to help us identify your order. Failure to do this will result in an unsuccessful transaction.
- If your bank is located in a country not listed above you will pay to our HSBC account. The details are below:
Bank Account:
Bank Code:
Beneficiary:
Bank Name:
Bank Address:
SWIFT Code:
PLEASE NOTE: If you are paying in this way you MUST write your Yourname order number in the description section when paying so we can easily recognize your payment. Failure to do this will result in a delayed or failed transaction.
2. When this is done, log in to your Yourname 'My Account' and complete the following:
Click 'Order list'
Click 'Pay'
Click 'Complete Payment' and fill in the related information for verification (This is an important step. If the information you have filled in does not match your bank details the payment can not be completed.)
Click 'Submit' to finish the procedure.
3. You will receive a payment confirmation email from us after your order's payment has gone through successfully. If you do not receive this email, please contact us here: http://www.dlmagicstore.com/help/
Please note that dlmagicstore will begin to handle your items after payment has been cleared.
All magic ebooks and videos are send via email .If the file already been upload ,we can send immediately . If not , we need 2 or 3 days to upload the file .