A BBM EXCLUSIVE VIDEO DOWNLOAD – A totally impromptu, multi-phased, packet trick that uses only standard playing cards! No gaffs, no duplicates, no hard moves!
All you need to do is grab seven cards out of any deck, and you are ready to go! Grab this download video today and learn this beauty instantly.
PHASE #1 – The magician shows a packet of five face down cards, the top is turned over and revealed to be a three of hearts. He places the three into the packet and it instantly jumps to the top. This is repeated two more times times until the spectator starts to believe that all of the cards are the three of hearts. However, when the magician shows the other four cards, it is discovered that they are the four queens!
PHASE #2 – The three of hearts is then placed between the two black queens and the three card packet is placed onto a spectator's hand. The red queens are waved over the black queens and the three of hearts instantly jumps between the red queens. Then the red queens immediately switch places with the black queens! So what are the three cards that the spectator is holding… the three of diamonds, clubs, and spades, naturally!
This dizzying routine uses no gaffs or duplicates! With nary a knuckle busting move in sight, this trick is a packet lover's dream.
BONUS – A slightly different version of the routine for those of you with a wry sense of humor and a fetish for blank faced cards. If you like your magic weird, you'll definitely dig this variation! (Supply your own 3x blank faced cards)
Running Time 15min
---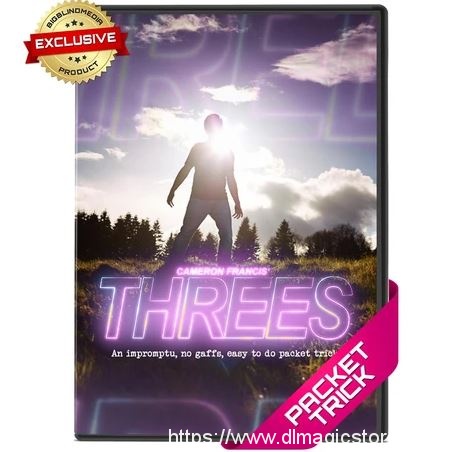 The following is the process you should take to complete your order through bank to bank transfer:
1. Please go to your bank (through online banking, ATM or going into a branch) and complete the transfer of money. Make sure that the amount you transfer is the exact total of your order. Payment details below:
- If your bank is located in Austria, Germany, Spain, France, United Kingdom, Italy, Netherlands, Belgium, Finland, Greece or Luxemburg you will pay to our WorldPay bank. You will see the bank details once you have placed the order.
PLEASE NOTE: If you are paying to our WorldPay bank you MUST include the Unique Payment Reference Number (you will receive this directly after paying the order) in the description section when completing payment to help us identify your order. Failure to do this will result in an unsuccessful transaction.
- If your bank is located in a country not listed above you will pay to our HSBC account. The details are below:
Bank Account:
Bank Code:
Beneficiary:
Bank Name:
Bank Address:
SWIFT Code:
PLEASE NOTE: If you are paying in this way you MUST write your Yourname order number in the description section when paying so we can easily recognize your payment. Failure to do this will result in a delayed or failed transaction.
2. When this is done, log in to your Yourname 'My Account' and complete the following:
Click 'Order list'
Click 'Pay'
Click 'Complete Payment' and fill in the related information for verification (This is an important step. If the information you have filled in does not match your bank details the payment can not be completed.)
Click 'Submit' to finish the procedure.
3. You will receive a payment confirmation email from us after your order's payment has gone through successfully. If you do not receive this email, please contact us here: http://www.dlmagicstore.com/help/
Please note that dlmagicstore will begin to handle your items after payment has been cleared.
All magic ebooks and videos are send via email .If the file already been upload ,we can send immediately . If not , we need 2 or 3 days to upload the file .