Ben Earl has fooled Penn and Teller, amazed David Blaine, and is a world-renowned performer, creator, and teacher of magic. Now he wants to share his trade secrets with you. In this Trade Secrets project by Studio 52, Benjamin Earl will share his YEARS of experience, techniques and psychology behind his innovative magic.

"Ben Earl has turned his analytical mind toward the fundamentals of sleight of hand and we all benefit. His clear vision, fresh approach and articulate explanations are a level above. When Ben speaks, I listen!"
- David Williamson

"Trade Secrets are a must have if you want to take your magic to the next level. Ben is a great teacher and a true magic master. This a no-brainer…get these!"
- Bill Malone

"Trade Secrets represents a deeper level of thinking and analysis on the impeccable execution of sleight of hand. Who better to be our coach than Benjamin Earl. This new series is simply outstanding."
- Michael Vincent

Trade Secrets by Benjamin Earl is a one-of-a-kind opportunity to INSTANTLY learn card magic from a master. Key moves that will make any routine better including: The Combination Shuffle, The Overhand DPS, Finessed Frank Thompson Cut and the False Swing Cut.

In Trade Secrets, Benjamin Earl goes meticulously through each move; not only showing the hand positions — but also the psychology of the moves AND how to maximize impact for your spectators. He will give you the tools to choreograph YOUR sleight of hand moves so perfectly that they will become undetectable to your spectators. True magic.

Available individually or as a set, Trade Secrets download series is an incredible value.

Private lessons would cost thousands of dollars, but these are incredibly only $20 each, or $75 for all 5 lessons in the COVERT COLLECTION (save $25).

#6 Trade Secrets – The Covert Collection by Benjamin Earl

This download contains all five of Ben Earls Trade Secrets.

#1 Trade Secrets – The Combination Shuffle by Benjamin Earl and Studio52
The Combination shuffle is a stunningly deceptive False Overhand Shuffle. Even when you know what is happening, it is hard to believe that no cards are out of place. You will learn everything you need to make this a part of your permanent repertoire.

#2 Trade Secrets – The Overhand DPS by Benjamin Earl and Studio 52
This handling of the Diagonal Palm Shift occurs within the action of a casual Overhand Shuffle. It simultaneously preserves a Top Stock-making it an extremely natural and versatile way to control, palm and steal cards.

#3 Trade Secrets – Finessed Frank Thompson Cut by Benjamin Earl and Studio 52
A breakdown of Ben's handling of the classic Frank Thompson False Cut. This False Cut technique has become a classic for good reason, it is simple, robust, and deceptive, however Ben's touches improve this already stellar classic. You will also learn a tabled version of this cut and a four-card production which creates the impression of four cards being cut from direct areas in one fluid sequence.

#4 Trade Secrets – False Swing Cut by Benjamin Earl and Studio 52
This is an amazingly deceptive False Swing Cut which looks completely innocent. Ben will go through all the touches, timing, and psychology to make this technique something practical and reliable. You will also learn several other uses of this technique including a Triple False Swing Cut, bottom stock control and more.

#5 Trade Secrets – Deceptive Card Control by Benjamin Earl and Studio 52
If you want to make the act of controlling a card to the top MUCH more deceptive, then this download is packed with expert touches, technique, and psychology to do just that-turning a very simple approach to control into something masterful. The best part is…only beginner skills are required!

Download now!
---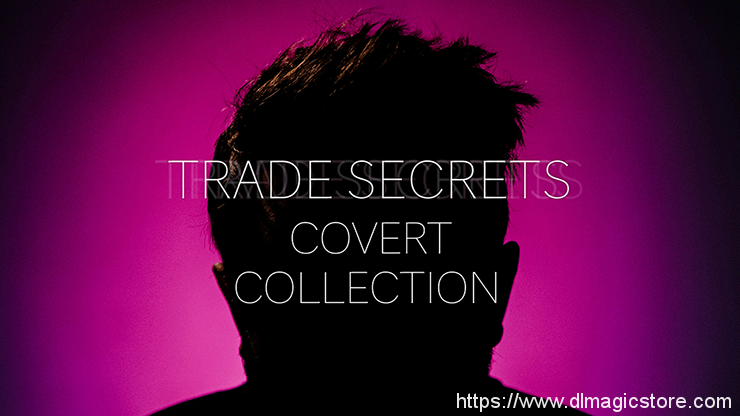 The following is the process you should take to complete your order through bank to bank transfer:
1. Please go to your bank (through online banking, ATM or going into a branch) and complete the transfer of money. Make sure that the amount you transfer is the exact total of your order. Payment details below:
- If your bank is located in Austria, Germany, Spain, France, United Kingdom, Italy, Netherlands, Belgium, Finland, Greece or Luxemburg you will pay to our WorldPay bank. You will see the bank details once you have placed the order.
PLEASE NOTE: If you are paying to our WorldPay bank you MUST include the Unique Payment Reference Number (you will receive this directly after paying the order) in the description section when completing payment to help us identify your order. Failure to do this will result in an unsuccessful transaction.
- If your bank is located in a country not listed above you will pay to our HSBC account. The details are below:
Bank Account:
Bank Code:
Beneficiary:
Bank Name:
Bank Address:
SWIFT Code:
PLEASE NOTE: If you are paying in this way you MUST write your Yourname order number in the description section when paying so we can easily recognize your payment. Failure to do this will result in a delayed or failed transaction.
2. When this is done, log in to your Yourname 'My Account' and complete the following:
Click 'Order list'
Click 'Pay'
Click 'Complete Payment' and fill in the related information for verification (This is an important step. If the information you have filled in does not match your bank details the payment can not be completed.)
Click 'Submit' to finish the procedure.
3. You will receive a payment confirmation email from us after your order's payment has gone through successfully. If you do not receive this email, please contact us here: http://www.dlmagicstore.com/help/
Please note that dlmagicstore will begin to handle your items after payment has been cleared.
All magic ebooks and videos are send via email .If the file already been upload ,we can send immediately . If not , we need 2 or 3 days to upload the file .