Fluid. Smooth. Surprising. "Wonder Aces" is just over a minute long, but it is ten years in the making. John Guastaferro (whose debut hit collection One Degree remains one of the most acclaimed Vanishing Inc. books in our history) is back with a sensational new download. "Wonder Aces" combines two older pieces with several brand new insights: the result is a silky smooth Ace routine.
You begin by producing Aces one by one: the first materializes, the second is found reversed in the pack, the third appears in a sandwich, and the fourth is "painted" across your fingers. But then things take off! The pack changes from blue to red, and to conclude, the Aces themselves change from blue to red.
"Wonder Aces" is within the realm of the intermediate performer, and no special cards are required. John G gives clear, step-by-step instructions on how to perform "Wonder Aces," which features his elegant Ballerina Cut.
This routine is worthy of your attention, and it can be performed set to music or performed with a narrative. A bargain at the offered price, add "Wonder Aces" to your repertoire today.
"A visual masterpiece!"Jack Carpenter
"You will be fooled as badly as I was. John G. has constructed a masterpiece of plot, structure, and handling. What a great trick!"John Bannon
"Wonder Aces typifies the work of John Guastaferro – elegant, economical, with one extra surprise you didn't see coming. Then another one."David Regal
This routine displays a wonderful economy in its ratio of method to effect. It is a lovely dance done for the eyes.Stephen Minch
Running time: 10 minutes 37 seconds
---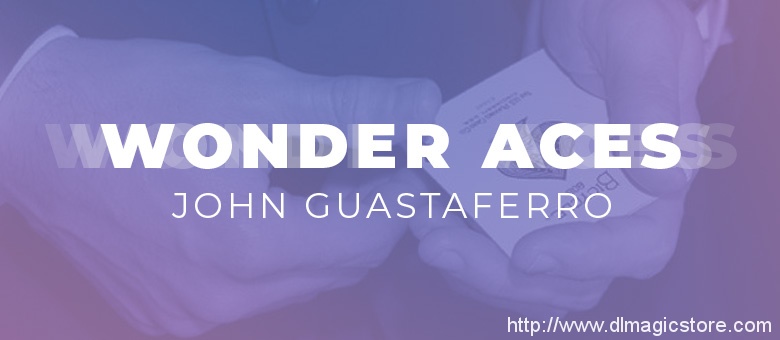 The following is the process you should take to complete your order through bank to bank transfer:
1. Please go to your bank (through online banking, ATM or going into a branch) and complete the transfer of money. Make sure that the amount you transfer is the exact total of your order. Payment details below:
- If your bank is located in Austria, Germany, Spain, France, United Kingdom, Italy, Netherlands, Belgium, Finland, Greece or Luxemburg you will pay to our WorldPay bank. You will see the bank details once you have placed the order.
PLEASE NOTE: If you are paying to our WorldPay bank you MUST include the Unique Payment Reference Number (you will receive this directly after paying the order) in the description section when completing payment to help us identify your order. Failure to do this will result in an unsuccessful transaction.
- If your bank is located in a country not listed above you will pay to our HSBC account. The details are below:
Bank Account:
Bank Code:
Beneficiary:
Bank Name:
Bank Address:
SWIFT Code:
PLEASE NOTE: If you are paying in this way you MUST write your Yourname order number in the description section when paying so we can easily recognize your payment. Failure to do this will result in a delayed or failed transaction.
2. When this is done, log in to your Yourname 'My Account' and complete the following:
Click 'Order list'
Click 'Pay'
Click 'Complete Payment' and fill in the related information for verification (This is an important step. If the information you have filled in does not match your bank details the payment can not be completed.)
Click 'Submit' to finish the procedure.
3. You will receive a payment confirmation email from us after your order's payment has gone through successfully. If you do not receive this email, please contact us here: http://www.dlmagicstore.com/help/
Please note that dlmagicstore will begin to handle your items after payment has been cleared.
All magic ebooks and videos are send via email .If the file already been upload ,we can send immediately . If not , we need 2 or 3 days to upload the file .