What happens when a genius like Woody Aragon puts his attention on a principle as powerful as the Si Stebbins stack? The answer: Magic.
This is a must-have series for anyone interested in strong, entertaining and impossible card magic, regardless of whether you're familiar with the stack or not.
In the final instalment of the series, Woody introduces two amazing effects which are just as strong for magicians as they are for laypeople.
Effects
Si Señor: This impossible card location is not only a strong piece of magic in itself, it is also an unbelievable utility effect, since it allows you to get into Si Stebbins from new deck order!
Si-Fry: Under utterly impossible conditions, with the spectator themselves shuffling the deck, you are still able to perfectly read the spectator's mind by naming every card they are holding. By combining Si Stebbins with a couple of other clever principles, Woody has created a master of mentalism.
Running Time: 28 minutes
---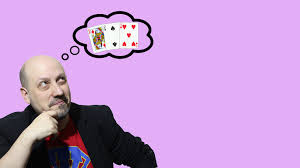 The following is the process you should take to complete your order through bank to bank transfer:
1. Please go to your bank (through online banking, ATM or going into a branch) and complete the transfer of money. Make sure that the amount you transfer is the exact total of your order. Payment details below:
- If your bank is located in Austria, Germany, Spain, France, United Kingdom, Italy, Netherlands, Belgium, Finland, Greece or Luxemburg you will pay to our WorldPay bank. You will see the bank details once you have placed the order.
PLEASE NOTE: If you are paying to our WorldPay bank you MUST include the Unique Payment Reference Number (you will receive this directly after paying the order) in the description section when completing payment to help us identify your order. Failure to do this will result in an unsuccessful transaction.
- If your bank is located in a country not listed above you will pay to our HSBC account. The details are below:
Bank Account:
Bank Code:
Beneficiary:
Bank Name:
Bank Address:
SWIFT Code:
PLEASE NOTE: If you are paying in this way you MUST write your Yourname order number in the description section when paying so we can easily recognize your payment. Failure to do this will result in a delayed or failed transaction.
2. When this is done, log in to your Yourname 'My Account' and complete the following:
Click 'Order list'
Click 'Pay'
Click 'Complete Payment' and fill in the related information for verification (This is an important step. If the information you have filled in does not match your bank details the payment can not be completed.)
Click 'Submit' to finish the procedure.
3. You will receive a payment confirmation email from us after your order's payment has gone through successfully. If you do not receive this email, please contact us here: http://www.dlmagicstore.com/help/
Please note that dlmagicstore will begin to handle your items after payment has been cleared.
All magic ebooks and videos are send via email .If the file already been upload ,we can send immediately . If not , we need 2 or 3 days to upload the file .