This eBook shows you how to do fortune-telling while incorporating secrets to make it seem like you are genuinely psychic!
If you're interested in giving readings with a mind-reading touch, this ebook is your best choice. It covers a wide range of topics and techniques quickly, without unnecessary content.
Inside:
Fortune Telling By Cards (Three Methods)
The Triple Turnover
Out Of The Hat
The Mental Wonder
Simplified Interpretation Of The Cards
The Suits (Indicate The Spheres Of Action)
The Values (Indicate Events Of Importance)
How To Memorize
The Mystic Circle
How To Give An Interesting Reading
Pseudo-Palmistry
A Sample Reading (From Observation And Information)
Pseudo-Graphology
Pseudo-Astrology
The World Of Dreams
Fortune-telling Telling coins
Fortune-telling Telling dice
Pseudo-Numerology
Scribble-Ology (An Original Pseudo-Psychic Act)
The Psychic System
Subjects Of Interests (Key Words And Follow-Ups Used To Get Details)
Addenda
Bonus
Pseudo-Dream Precognition (Four Methods)
Author/Originator: Albright / eMentalism
Entertaining and Amazing Fortune-Telling Secrets:
Forbidden Wisdom Revised and Expanded edition 2023
23-page PDF.
---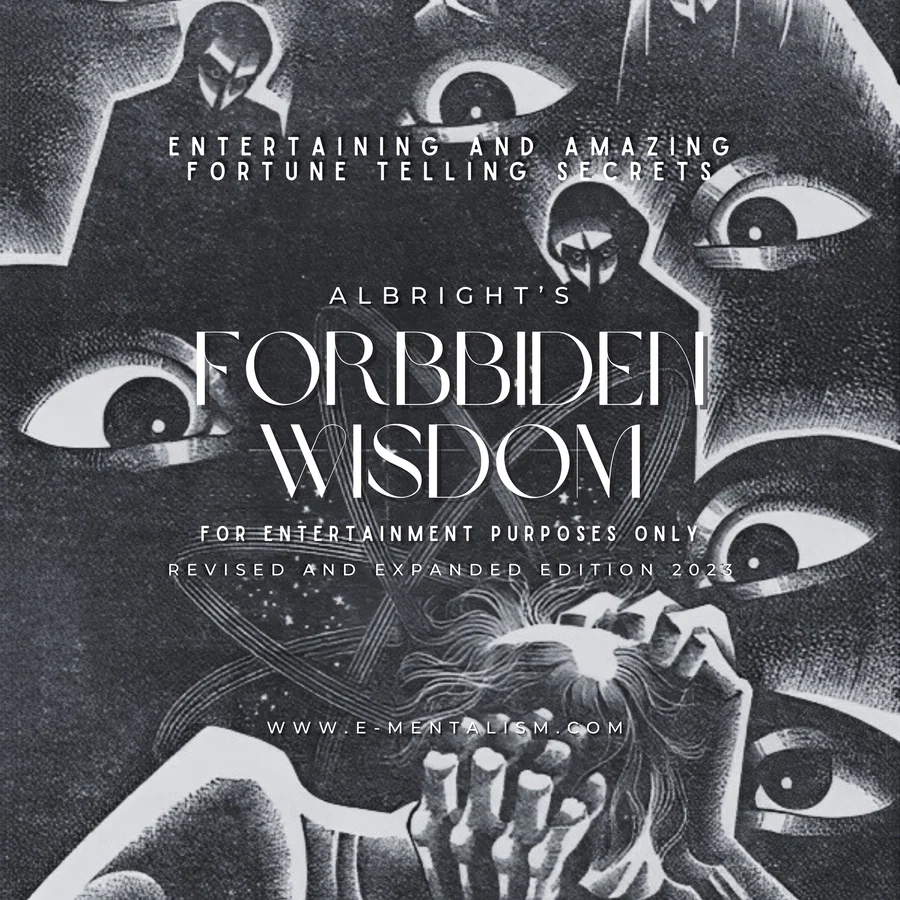 The following is the process you should take to complete your order through bank to bank transfer:
1. Please go to your bank (through online banking, ATM or going into a branch) and complete the transfer of money. Make sure that the amount you transfer is the exact total of your order. Payment details below:
- If your bank is located in Austria, Germany, Spain, France, United Kingdom, Italy, Netherlands, Belgium, Finland, Greece or Luxemburg you will pay to our WorldPay bank. You will see the bank details once you have placed the order.
PLEASE NOTE: If you are paying to our WorldPay bank you MUST include the Unique Payment Reference Number (you will receive this directly after paying the order) in the description section when completing payment to help us identify your order. Failure to do this will result in an unsuccessful transaction.
- If your bank is located in a country not listed above you will pay to our HSBC account. The details are below:
Bank Account:
Bank Code:
Beneficiary:
Bank Name:
Bank Address:
SWIFT Code:
PLEASE NOTE: If you are paying in this way you MUST write your Yourname order number in the description section when paying so we can easily recognize your payment. Failure to do this will result in a delayed or failed transaction.
2. When this is done, log in to your Yourname 'My Account' and complete the following:
Click 'Order list'
Click 'Pay'
Click 'Complete Payment' and fill in the related information for verification (This is an important step. If the information you have filled in does not match your bank details the payment can not be completed.)
Click 'Submit' to finish the procedure.
3. You will receive a payment confirmation email from us after your order's payment has gone through successfully. If you do not receive this email, please contact us here: http://www.dlmagicstore.com/help/
Please note that dlmagicstore will begin to handle your items after payment has been cleared.
All magic ebooks and videos are send via email .If the file already been upload ,we can send immediately . If not , we need 2 or 3 days to upload the file .