PDF Format
Neal has has collaborated with Mentalism's sharpest and brightest Minds in this book this book is simply brilliant a must for everyone's library.  Mentalist, Readers, Bizzarist, Occultist, Magick.
Considered the equivalent in Seances work to what the 13 Steps is to Mentalism is for Mentalist. It's got it at all – Séance work, Occult, Spells, Reading and everything in between. In additional to 12 Masterpieces from Scryer this tome also contains a min of 30 respected colleagues who are offering their best. Neal in fact has digested some of these contributors works and truly is mesmerized by the power of their routines and thought processes. Also, from the Master himself – Richard Webster – who has penned 7 contributions towards this mammoth project that will surely be revered as one of the most powerful sources of underground material ever produced.  Richard himself a recipient of practically every award of recognition from his peers over his illustrious career and is arguably the most published individual in the world of Magick, and Mentalism.
This book is chock full with of 300 pages of solid content featuring over 30 contributors including but limited are:
Neil Tobin – Necromancer – "This is one of Neil's Signature Contributions  – it's Simply Brilliant."  Noted and respected Chicago Bizarrest
Loyd Auerbach is a recognized expert on the paranormal with over 40 years of experience in the field of parapsychology. You're in for a treat with his insider information and point of view. The mentalism world is rife with terms like dangerous, never seen or you could start a cult with this information, but now, finally, these words truly ring true. A mind so twisted and so dark, the information he reveals is uniquely one of a kind. Who is this mysterious man?
Doug Dyment – author of the recent highly successful and stellar reviewed book – Calculated Thoughts – also chimes in for this project providing a routine titled: A Stunning Séance Secret.
From The Master Himself – Larry Baukin – Comes three routines, Bridget Bishop, Circle of Chairs and Hellstrom Redux.  When it comes to the top of Séance, Larry Baulkin without question is our top selling author as we feature his works exclusively.
Lary Kuehn – An Occurrence in Mumbai – One of the top selling authors at Stevens Magic also chimes in to this prolific project.  Check out many of his other offerings available here.  This is the first time this has every been revealed.  Lary goes back Tom Palmers – Tony Andruzzi's history.
Jim Magus – Dead Celebrities – A noted bizzarist from the era of Tony Andruzzi – both Jim and Lary were close confidants of Andruzzi!  Author of Unspeakable Acts
DiMon. Yes, it's a play on the word demon, but once you see the material from this underground legend, you will understand why he calls himself this. Neal Scryer says, "This man's work is outright dangerous and the contributions in this book are just the tip of the iceberg. I predict big things for DiMon soon. Watch out for this guy." Stevens Magic is excited distribute this underground legend as he reveals his secrets for the first time in Scryer's Seers.
William Barclay's Low-Tech/No Tech Séance is the scariest thing this side of the CONJURING movies. William Barclay's Low-Tech/No Tech Séance is the scariest thing this side of the CONJURING movies. Meet Suzy – the enraged and dangerous spirit of a little girl trapped for decades in the building ready to unleash her fury on your spectators. Best of all, this Séance requires no electronic or mechanical gimmicks. This is Spirit Theatre in the purest and easiest form while you, the medium, remain roped and zip-tied to your chair while you unleash the ghost of Suzy.
Jon Stetson – THE $10,000 SECRET – I genuinely believe that what I'm about to tell you is worth every cent of ten thousand dollars. You can do it at the start of a séance, and you can do it just as well at the start of a reading. Jon has the distinction of immediate recognition for his work in mentalism and has received numerous awards including The Joe Stevens (Stevens Magic) – Annemann Award for Mentalism.
Michael Weber – Possession – another worldly masterpiece that will leave lasting impressions for years to come. Signature Michael Weber touch with the ability to add your own unique elements.  One of magic and mentalism's most noted and prolific thinkers and creators who is also a master at recognition and implementation of the subtlety and the power of making a connection.
Dr. Jeremy Weiss – The Tarot in Two Hours – included with permission provides a tarot course in under two hours. This is used to train real psychics for training. Dr. Weiss continues to work tirelessly and is possibly the worlds most foremost expert on this and many other issues related to this medium. Working through his "Temple of Miriam – The Prophetess" he tackles and teaches a wide range of techniques including but certainty not limited to Jewish magic.
Anthony Wolff – A descent in lycanthropy – you have the power the make them love or hate you! An exceptional theatrical piece where audience members see you turn into a werewolf.
Also included a few bonuses that allow you to make a lasting impression good or bad. They are priceless and some require very little work. This will never be in print again. Anonymous is a high-profile worker that most of students would prefers he remain in the underground. The possession séance – Sitter Medium – Votive Candles – Stooge Hypnosis Séance – Sneaky Séance Stooge – All Killer effects especially the possession one where the person becomes obsessed during the séance. Suggested you sign disclaimers before executing this routine it can be some intense.
Helmuth Grunwald – author of the hugely successful Through the Eyes of Hanussen & Messing. Features his Séance in Trance. A multi group hypnotic hallucinogenic trip. We had to really push for him to release this.
Ava Spellman – This woman is a real worker in exorcism and cleaning. This is a market that has exploded recently. Some of her work included is problem solving, exorcism and holy water, cleansing or sanctifying a room or home, and a message from Ava.
Prince of Darkness – Séance phone message aftermath zoom séance. This also was something POD was reluctant to share because he has found a true niche, especially in these times. Remember Covid may have opened the ZOOM market, but it's here to stay. Look how many doctors are now pushing Zoom appointments. That market is here and now and it's not going way. Time to your share.
Alexander Nelson – Dark Séance Q&A – everything happens in darkness. Think about the experience when we are deprived of our senses and how such an event can really amplify a situation.
Steve Drury – A masterpiece from the master himself – Mum is the word – My beloved friend did not want to share this but as a favor has agreed to do so. Often referred to by such titles as: The Director, or Octopus because pretty much anything that is going on in the world of Magick, Mentalism and the like, he has direct or indirect involvement as a facilitator. His contributions are legendary. Steve has set himself above and beyond as a solid expert in the field as well as a publisher of many books in the mentalism genre. In fact, one of the most coveted reads is his quarterly publication – PSYCRETS: British Society of Mystery Entertainers (membership only access).  Steve also designed the cover for the book which conveys an ethereal layering phenomena.
Scott St. Clair – One of the UK's most upcoming mentalist has contributed "Message in a Bottle." This one is SOLID and hard to match. Scott has produced some prolific works including but not limited to: "Cross My Palm," YELM, Seanchaidh and Titan Book test. Recognition from his peers by way of endorsements have made his works in high demand. You can find these products at both Stevens Magic as well as through Steve Drury who had to wisdom to recognize his talents.
Tony Iacovello – The Evil Eye Swing – A new pendulum method which guarantees a quick result. Direct, powerful and useful. You will likely find yourself using this frequently.
Mark Stevens – The Evolution of a Mentalist. This is a short but true history through my eyes, as I not only have the vivid memories of going with my father to his "gigs," sincerely this is when I experienced just how remarkable a difference it was when my father went from only performing traditional stage magic, to pretty much solely Mentalism. It was my first self-absorbed lesson about working smarter not harder. One that I would not have every appreciated or was aware of had I not witnessed it with my own eyes. I'm sure many of you that perform traditional magic have not incorporated mentalism but have thought about it. Here is a comical but 100% true and authentic history of exactly how and what the catalyst was to make my father go that route – and in doing so – he never looked back. Sure if he got a request for a traditional magic show from an older client or for whatever reason, he wouldn't turn it down, but he certainty would tell them about his new Mentalism show first.
Plus, a min of 15 additional contributors:
This will be book you will read your entire life…. You will go back to it many times. Simply put this book is one of the powerful and comprehensive books produced. Mandatory inclusion in any magicians or mentalist library.
BONUS: Scryer's Haunted Key – Over 15 key effects using the haunted key – never seen before. Imaging doing a parlor or walk-around using only one haunted key. Featuring a most surreal forward written by the spirit world. Stanton Caryle from Nightmare Alley would have loved this book. This book is dedicated to our dearly departed friend Tony Razzano. If you're looking for the perfect companion for this project – check out Band of Readers by Neal Scryer and contributors. These two books and you're set.
---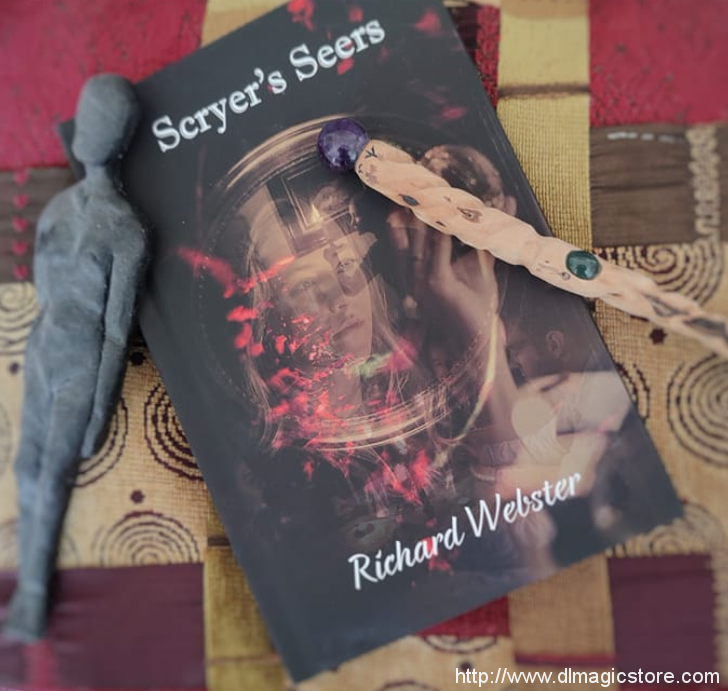 The following is the process you should take to complete your order through bank to bank transfer:
1. Please go to your bank (through online banking, ATM or going into a branch) and complete the transfer of money. Make sure that the amount you transfer is the exact total of your order. Payment details below:
- If your bank is located in Austria, Germany, Spain, France, United Kingdom, Italy, Netherlands, Belgium, Finland, Greece or Luxemburg you will pay to our WorldPay bank. You will see the bank details once you have placed the order.
PLEASE NOTE: If you are paying to our WorldPay bank you MUST include the Unique Payment Reference Number (you will receive this directly after paying the order) in the description section when completing payment to help us identify your order. Failure to do this will result in an unsuccessful transaction.
- If your bank is located in a country not listed above you will pay to our HSBC account. The details are below:
Bank Account:
Bank Code:
Beneficiary:
Bank Name:
Bank Address:
SWIFT Code:
PLEASE NOTE: If you are paying in this way you MUST write your Yourname order number in the description section when paying so we can easily recognize your payment. Failure to do this will result in a delayed or failed transaction.
2. When this is done, log in to your Yourname 'My Account' and complete the following:
Click 'Order list'
Click 'Pay'
Click 'Complete Payment' and fill in the related information for verification (This is an important step. If the information you have filled in does not match your bank details the payment can not be completed.)
Click 'Submit' to finish the procedure.
3. You will receive a payment confirmation email from us after your order's payment has gone through successfully. If you do not receive this email, please contact us here: http://www.dlmagicstore.com/help/
Please note that dlmagicstore will begin to handle your items after payment has been cleared.