House of Mystery:
The Magic Science of David P. Abbott

Edited by Teller and Todd Karr

Published 2005
Two volumes
890 pages
Over 700 illustrations
Covers by Katlyn Breene



A note from Teller:
This two-volume set includes Abbott's Book of Mysteries, a collection of super-mysteries which, so far as I know, has never been surpassed. Abbott was a genius who built his work on the devious principles he learned from spirit mediums, who could not afford to get caught.
With these miracles, Abbott fooled Houdini, Kellar, Okito, Ching Ling Foo, and all the greatest minds in magic, and recorded his secrets in step-by-step detail in two of the most delightful and detailed books ever written on the art of magic.
This edition's annotations and the newly-rediscovered articles and letters, including seven original hand-illustrated Kellar letters, make this set as essential for the history buff as it is for the professional performer.
— Teller

House of Mystery includes fifty essays by Teller on technique, magic psychology, and presentation, plus his own top-secret billet-switch method. The two volumes also feature over 100 diabolically clever close-up, stage, and mental effects, as well as the complete writings of David P. Abbott, including the legendary Book of Mysteries, Behind the Scenes with the Mediums, and previously unpublished material. You'll also enjoy Abbott's essays on the life and mysteries of illusion genius Joseffy have been supplemented with biographies by Jim Steinmeyer and poet Carl Sandburg.
---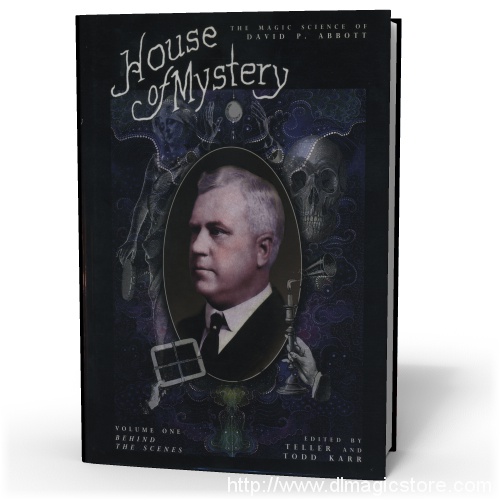 The following is the process you should take to complete your order through bank to bank transfer:
1. Please go to your bank (through online banking, ATM or going into a branch) and complete the transfer of money. Make sure that the amount you transfer is the exact total of your order. Payment details below:
- If your bank is located in Austria, Germany, Spain, France, United Kingdom, Italy, Netherlands, Belgium, Finland, Greece or Luxemburg you will pay to our WorldPay bank. You will see the bank details once you have placed the order.
PLEASE NOTE: If you are paying to our WorldPay bank you MUST include the Unique Payment Reference Number (you will receive this directly after paying the order) in the description section when completing payment to help us identify your order. Failure to do this will result in an unsuccessful transaction.
- If your bank is located in a country not listed above you will pay to our HSBC account. The details are below:
Bank Account:
Bank Code:
Beneficiary:
Bank Name:
Bank Address:
SWIFT Code:
PLEASE NOTE: If you are paying in this way you MUST write your Yourname order number in the description section when paying so we can easily recognize your payment. Failure to do this will result in a delayed or failed transaction.
2. When this is done, log in to your Yourname 'My Account' and complete the following:
Click 'Order list'
Click 'Pay'
Click 'Complete Payment' and fill in the related information for verification (This is an important step. If the information you have filled in does not match your bank details the payment can not be completed.)
Click 'Submit' to finish the procedure.
3. You will receive a payment confirmation email from us after your order's payment has gone through successfully. If you do not receive this email, please contact us here: http://www.dlmagicstore.com/help/
Please note that dlmagicstore will begin to handle your items after payment has been cleared.
All magic ebooks and videos are send via email .If the file already been upload ,we can send immediately . If not , we need 2 or 3 days to upload the file .