Discount only One Week
The Magic of Johnny Thompson Called the greatest magician alive, Johnny Thompson has published the definitive collection of his life's work
"We have been fans of Johnny Thompson for more than forty years. He has helped create and refine virtually every branch of our stage and television work." -Penn & Teller

"Johnny is not only the most knowledgeable and proficient magician I have ever met, he is also a great teacher who is happy to share his knowledge… I have learned more about magic from Johnny Thompson than anyone else in the world." -Lance Burton

"More than 40 years ago Johnny Thompson welcomed me into his home and into his confidence. Since that day, every time I've met with Johnny I have learned something valuable from him about the real secrets of magic. These books are a treasure trove of knowledge from a true Master who has seen it all, done it all, and is generous enough to share his wisdom with the rest of us." -Michael Weber

Johnny Thompson is one of the most respected minds in magic. His distinguished, decades-long career has covered all facets of magic. As a pioneer of trade show performances, as a legendary dove worker—performed as his iconic stage persona, The Great Tomsoni & Co.—as a bamboozling bar magician, as a charming mentalist, as a surprising illusionist, and as one of the most sought-after magic consultants… Johnny Thompson, truly, has done it all.

And now, he shares it all with you.

Written by renowned author Jamy Ian Swiss and the master magician himself, Johnny Thompson, The Magic of Johnny Thompson meticulously details the real secrets of seventy-eight of Johnny's most cherished and celebrated routines, including The Cups & Balls, The Balls in the Net, The Egg Bag and The Gambler's Ballad.

It also includes previously unpublished material from Johnny's respected colleagues and mentors including Dai Vernon, Harry Riser and Ed Marlo. There is an extended chapter devoted to the close-up magic of Charlie Miller and Max Malini. There is the entire Johnny Thompson Trade Show Act (complete with a sample script), including the incredibly impossible $100 Dollar Prediction. There is also a chapter devoted to dove and silk magic by The Great Tomsoni & Co., which incudes a thorough essay on the development of a dove act.

This handsome two-volume, slipcased set is over 660 pages and is illustrated with nearly 1,100 photographs and features forewords by Jamy Ian Swiss and Lance Burton, and introductions by Teller and Levent. Every copy sold also features two original signatures: one by Johnny Thompson and one by The Great Tomsoni!

Everything you would expect—and much more—from one of the most respected magicians of this, or any other age!

Specifications

Two-volume hardcover, slipcased set: 12.5" x 9.25" x 2.75" (31.75 x 23.5 x 7 cm), approximately 10 lbs. (4.5 kg) with 78 routines spread over 663 pages, featuring nearly 1,100 photographs.


CONTENTS


VOLUME I
FOREWORD by Jamy Ian Swiss

INTRODUCTION by Teller

THE GAMBLER'S BALLAD, Harry Riser (Everywhere Nowhere All Backs, The Ambilipstrous Card, The Kissed Card, Les Quick Cartes, The Bean Coins, Elmsley's Brainweave, Expert Dunbury Delusion, Impromptu Shiner), ED MARLO (The Empty Balloon, KF + BC + EM2 = Another Universal, Stilted Tilt, Mental Card Miracle, Expert Estimating the Aces), BALLS IN THE NET, MIXED MACS, MORE CARDS (Zarrow Translating Deck, The Whispering Queen, The Prowling Jokers, Stopping Hofzinser, Location with a One-Way Back, The Classic Force, Underground Card Moves: Finlay Shift, Optical Shuffle, Carlyle Top Palm Replacement, Dribble Replacement), BENSON BOWL, MILLER & MALINI (Basic English, Charlie's First Card Trick, Covering Erdnase, Malini Side Steal, Thompson Side Steal, The Trick That Cannot Be Explained, Manuel's Phantom Cigarette, Han Ping Chien, The Vanishing Glass, Miller Cups and Balls, Sugar Cube Assembly), THE EGG BAG


VOLUME II
FOREWORD by Lance Burton

INTRODUCTION by Levent

THE CUPS AND BALLS, MORE COIN MAGIC (Presto Chango, The Golden Coin, Coin in the Bottle), DAI VERNON (Expert Vernon's Variant, Cutting the Aces, Copper and Silver Transposition, Dai Vernon's Magic Castle Act), COLOR-CHANGING KNIVES, EVEN MORE CARDS (The Five Senses, Card on the Seat, Quadruple Coincidence, Grippo's Card to Envelope, The Genii's Stop Trick, The Scoot, Ravelli Meets Rix, Parrish the Thought, Lazy Man's Card Trick), MENTALISM (The Koran Medallion, Polish Epic, The Pump Deck), ILLUSIONS (The Color-Changing Dress, The Transformation Tunnel, The Trunk Trick, The JT Asrah), THE GREAT TOMSONI & CO. (The Act, On Birds, Pockets and Principles, Wings of Warsaw, Unprepared Serpentine Silk, Color-Changing Silk, Color-Changing Dove, Multiple Dove Vanish, Paper to Parakeet), TRADE SHOW ACT (The Act, Sample Script, The Opener, Miniature Invisible Deck, Micro-Macro, Triumph, Signed Card to Miniature Box, The Johnny Thompson $100 Prediction)

THE FINAL WORD
by Johnny Thompson
---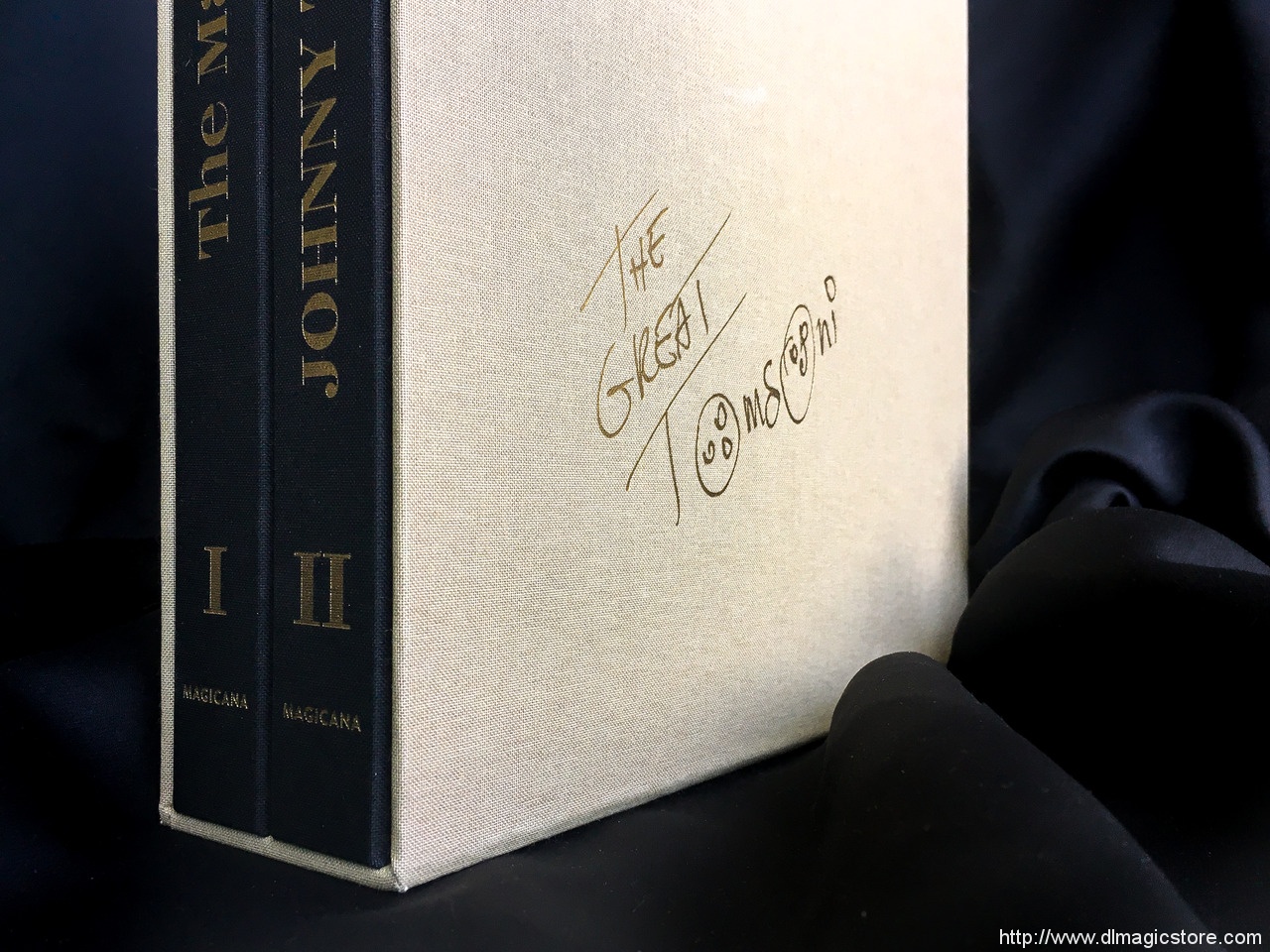 The following is the process you should take to complete your order through bank to bank transfer:
1. Please go to your bank (through online banking, ATM or going into a branch) and complete the transfer of money. Make sure that the amount you transfer is the exact total of your order. Payment details below:
- If your bank is located in Austria, Germany, Spain, France, United Kingdom, Italy, Netherlands, Belgium, Finland, Greece or Luxemburg you will pay to our WorldPay bank. You will see the bank details once you have placed the order.
PLEASE NOTE: If you are paying to our WorldPay bank you MUST include the Unique Payment Reference Number (you will receive this directly after paying the order) in the description section when completing payment to help us identify your order. Failure to do this will result in an unsuccessful transaction.
- If your bank is located in a country not listed above you will pay to our HSBC account. The details are below:
Bank Account:
Bank Code:
Beneficiary:
Bank Name:
Bank Address:
SWIFT Code:
PLEASE NOTE: If you are paying in this way you MUST write your Yourname order number in the description section when paying so we can easily recognize your payment. Failure to do this will result in a delayed or failed transaction.
2. When this is done, log in to your Yourname 'My Account' and complete the following:
Click 'Order list'
Click 'Pay'
Click 'Complete Payment' and fill in the related information for verification (This is an important step. If the information you have filled in does not match your bank details the payment can not be completed.)
Click 'Submit' to finish the procedure.
3. You will receive a payment confirmation email from us after your order's payment has gone through successfully. If you do not receive this email, please contact us here: http://www.dlmagicstore.com/help/
Please note that dlmagicstore will begin to handle your items after payment has been cleared.
All magic ebooks and videos are send via email .If the file already been upload ,we can send immediately . If not , we need 2 or 3 days to upload the file .