ACAAN Project by Dani DaOrtiz Chapter 09 (Instant Download)
A borrowed deck is shuffled BY YOUR AUDIENCE. And yet, when someone names a card and a number, it's there. This insanely clever trick fools everyone. 50 min. instructions. A masterclass in card magic.
The Movement Card At Number
In Lesson 9 of the ACCAN Project, Dani introduces you to his broader concepts of naturality that go beyond just the moves. You'll learn the philosophy that makes Dani's magic so disarming, as well as a Card At Number that is deeply fooling. The deck is divided into packets and handed out for the audience members to shuffle. A spectator thinks of any number they want. A second spectator looks at any card they would like in their packet. The deck is reassembled. The spectator thinking of a card cuts the deck at a point they like, and then the thought of a number is revealed. The deck is placed on the table and that number is fairly counted down to reveal the thought of card.

This lesson, just about an hour in length, is a deep dive into natural movement, structure, and action. Key takeaways for the student are:

Natural Structure
When most magicians talk about naturalness they are referring only to the physical movements of magicians. Dani expands naturalness to the way the effect is perceived in the spectator's mind. Breaking down an effect into its core components and structuring them so that the effect flows in a manner that is logical to the spectator will increase the power of the effect. Dani walks you through the principles of Natural Structure.

Start Before The Start
Catching your audience off guard is a strong tool for any magician. Beginning the trick before the audience realizes a trick is happening is a great way to get light years ahead of your spectators. Dani will teach the student how to use the Start Before The Start principle to keep the audience engaged and entertained while the performer gets the effect set up right under everyone's nose.

Continuity Of Action
Having bulletproof sleight of hand is no match for natural choreography that hides the secret in plain sight. Students in this lesson will get a crash course in Dani's Continuity of Action Concept. This way of handling cards will allow you to accomplish incredibly direct and wildly bold magic that your audience will remember forever.

Lesson Nine of The ACAAN Project teaches the student the principles of natural movement and natural structure, as well as a deeply fooling Card At Number that gets the whole audience involved. In addition to learning Dani's innermost thoughts of naturality, you'll become privy to some of the secrets that make the magic of Dani DaOrtiz so disarmingly devastating. It's time to go to school with Dani DaOrtiz in lesson nine of The ACAAN Project

To see every trick in this series, visit ACAAN Project COMPLETE by Dani DaOrtiz.
---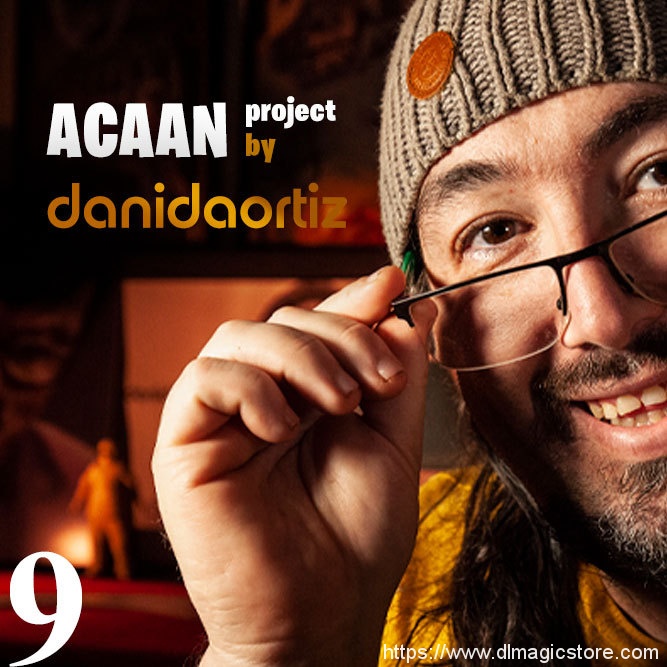 The following is the process you should take to complete your order through bank to bank transfer:
1. Please go to your bank (through online banking, ATM or going into a branch) and complete the transfer of money. Make sure that the amount you transfer is the exact total of your order. Payment details below:
- If your bank is located in Austria, Germany, Spain, France, United Kingdom, Italy, Netherlands, Belgium, Finland, Greece or Luxemburg you will pay to our WorldPay bank. You will see the bank details once you have placed the order.
PLEASE NOTE: If you are paying to our WorldPay bank you MUST include the Unique Payment Reference Number (you will receive this directly after paying the order) in the description section when completing payment to help us identify your order. Failure to do this will result in an unsuccessful transaction.
- If your bank is located in a country not listed above you will pay to our HSBC account. The details are below:
Bank Account:
Bank Code:
Beneficiary:
Bank Name:
Bank Address:
SWIFT Code:
PLEASE NOTE: If you are paying in this way you MUST write your Yourname order number in the description section when paying so we can easily recognize your payment. Failure to do this will result in a delayed or failed transaction.
2. When this is done, log in to your Yourname 'My Account' and complete the following:
Click 'Order list'
Click 'Pay'
Click 'Complete Payment' and fill in the related information for verification (This is an important step. If the information you have filled in does not match your bank details the payment can not be completed.)
Click 'Submit' to finish the procedure.
3. You will receive a payment confirmation email from us after your order's payment has gone through successfully. If you do not receive this email, please contact us here: http://www.dlmagicstore.com/help/
Please note that dlmagicstore will begin to handle your items after payment has been cleared.
All magic ebooks and videos are send via email .If the file already been upload ,we can send immediately . If not , we need 2 or 3 days to upload the file .