Download this incredible course today
This year, YOU are part of the experience…
For the first time in Taboos history, you are going to get to experience the terror first-hand from the comfort (or not) of your own home. Using everyday objects you have lying around the house, you too can discover the power of the Ouija.
Join me in one of the worlds first, live streamed, interactive seance and discover the fascinating truth of the Ouija board.
Discover the truth about then men who invented the original Ouija board as a novelty toy board game and how it believed that the word "Ouija" was an accidental misreading of the name Ouida, the name of a woman's rights activist.
So, if this is just a kids board game and the origins of the word Ouija was just a mistake, then there is nothing to be worried about? … right?
Based on actual events uncovered by Ouija historian Robert Murch, did Mary-Ann Michaels really become possessed by the board?
Or how in 1921, a man tried to explain to the nurses of a New York psychiatric hospital that the Ouija board had told him to murder 5 men in a specific sequence before leaving them 13 hours to rot before putting them into individual freezers in a warehouse. One of the first warehouses that were once used to make Ouija boards…
We are going to call upon his spirit together and ask him, why did he have to murder them in a sequence, why 13 hours and how did a simple, harmless board game drive him to do such horrendous things? A few of you who are brave enough can even join us live on camera so we, with everyone else can experience what happens to you, in your home.
When you purchase your ticket, you will have access to a PDF and a short video. The PDF details all of the things you will need to join in live as well as artwork to a Ouija Oracle. The video briefly teaches you how to assemble the Oracle.
Will you hear ghostly raps and knocks in your home as you ask for signs of the afterlife? Will the photos on your walls and the objects on your shelves start flying off? Will the spirits let themselves be seen in your home?
Join me, on the 11th October for a live seance at the Alakazam Academy and we can find out… together.
---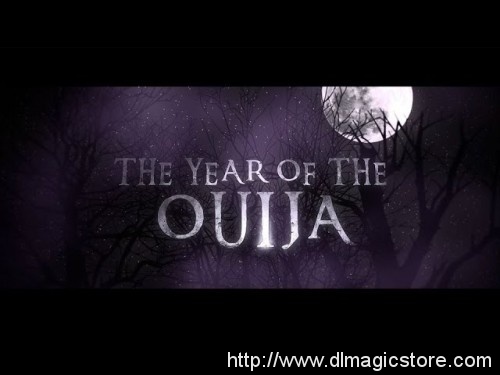 The following is the process you should take to complete your order through bank to bank transfer:
1. Please go to your bank (through online banking, ATM or going into a branch) and complete the transfer of money. Make sure that the amount you transfer is the exact total of your order. Payment details below:
- If your bank is located in Austria, Germany, Spain, France, United Kingdom, Italy, Netherlands, Belgium, Finland, Greece or Luxemburg you will pay to our WorldPay bank. You will see the bank details once you have placed the order.
PLEASE NOTE: If you are paying to our WorldPay bank you MUST include the Unique Payment Reference Number (you will receive this directly after paying the order) in the description section when completing payment to help us identify your order. Failure to do this will result in an unsuccessful transaction.
- If your bank is located in a country not listed above you will pay to our HSBC account. The details are below:
Bank Account:
Bank Code:
Beneficiary:
Bank Name:
Bank Address:
SWIFT Code:
PLEASE NOTE: If you are paying in this way you MUST write your Yourname order number in the description section when paying so we can easily recognize your payment. Failure to do this will result in a delayed or failed transaction.
2. When this is done, log in to your Yourname 'My Account' and complete the following:
Click 'Order list'
Click 'Pay'
Click 'Complete Payment' and fill in the related information for verification (This is an important step. If the information you have filled in does not match your bank details the payment can not be completed.)
Click 'Submit' to finish the procedure.
3. You will receive a payment confirmation email from us after your order's payment has gone through successfully. If you do not receive this email, please contact us here: http://www.dlmagicstore.com/help/
Please note that dlmagicstore will begin to handle your items after payment has been cleared.
All magic ebooks and videos are send via email .If the file already been upload ,we can send immediately . If not , we need 2 or 3 days to upload the file .