"The Crowley Test" by Luke Jermay is a stunning demonstration of an unusual psychic skill, set to an engaging narrative of the 'most wicked man in the world' and his discoveries and teachings about telepathy, psychometry and mind reading. The routine is designed to be performed in close up an casual settings with the performer sat with spectators around a table. It is structured in three distinct phases each with their own climaxes that build to a satisfying and deeply impactful conclusion.

PLEASE NOTE – THIS PRODUCT WILL BE INTRODUCED AT THE DISCOUNT PRICE FOR 48 HOURS ONLY. ONCE 48 HOURS HAVE PASSED THE PRICE WILL INCREASE AND NEVER BE DISCOUNTED AGAIN.

In the first phase you have three spectator think about happy memories from their past and 'charge' three blank business cards with their energy by writing a single word about their experience on their card. These cards are mixed with many other identical but blank cards, by the audience members in the fairest of fashions. The blindfolded performer is then able to, under impossible conditions, locate the three 'emotionally charge target cards' as he deals the stack of papers to the table.

You then take this skill even further by matching the energy from each of the cards to each of your spectators handing the correct papers back to their proper owners. Finally you take things to the extreme when you display your ability to 'read' the energy of each spectator and reveal specific details about the happy experiences they focused on at the outset of the demonstration.

"The Crowley Test" is so much more than the sum of its parts. Included in addition to the in-depth training on the method and subtilise employed is the word for word, professional script as used by Jermay in his own real world performances. This script elevates the routine to a stagger experience of mystery in the minds of the audience.

"The Crowley Test" training package download includes a professionally edited and typeset instructional PDF (4,981 words) file as well as 3 audio training files (78 minutes) to ensure you have everything you could possibly need to perform this remarkable demonstration effortlessly is at your disposal.

The routine is designed to be performed in casual and close up setting, sat at a table with spectators. You will require some blank card stock, a smartphone and three marker pens to perform the routine. The download includes a professionally edited and types set PDF file (4,981 words) as well as 3 audio training files totalling 78 minutes in duration.
---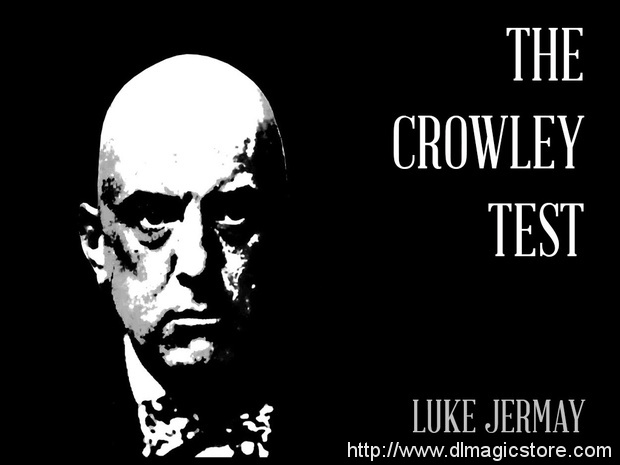 The following is the process you should take to complete your order through bank to bank transfer:
1. Please go to your bank (through online banking, ATM or going into a branch) and complete the transfer of money. Make sure that the amount you transfer is the exact total of your order. Payment details below:
- If your bank is located in Austria, Germany, Spain, France, United Kingdom, Italy, Netherlands, Belgium, Finland, Greece or Luxemburg you will pay to our WorldPay bank. You will see the bank details once you have placed the order.
PLEASE NOTE: If you are paying to our WorldPay bank you MUST include the Unique Payment Reference Number (you will receive this directly after paying the order) in the description section when completing payment to help us identify your order. Failure to do this will result in an unsuccessful transaction.
- If your bank is located in a country not listed above you will pay to our HSBC account. The details are below:
Bank Account:
Bank Code:
Beneficiary:
Bank Name:
Bank Address:
SWIFT Code:
PLEASE NOTE: If you are paying in this way you MUST write your Yourname order number in the description section when paying so we can easily recognize your payment. Failure to do this will result in a delayed or failed transaction.
2. When this is done, log in to your Yourname 'My Account' and complete the following:
Click 'Order list'
Click 'Pay'
Click 'Complete Payment' and fill in the related information for verification (This is an important step. If the information you have filled in does not match your bank details the payment can not be completed.)
Click 'Submit' to finish the procedure.
3. You will receive a payment confirmation email from us after your order's payment has gone through successfully. If you do not receive this email, please contact us here: http://www.dlmagicstore.com/help/
Please note that dlmagicstore will begin to handle your items after payment has been cleared.
All magic ebooks and videos are send via email .If the file already been upload ,we can send immediately . If not , we need 2 or 3 days to upload the file .