On August 2nd, 1982, Martin Breese organized a John Mendoza lecture, which was taped for later release as a video. But Martin being the busy publisher he was had so many other projects to work on that he never got around releasing this recording. We rescued the recording from two old Umatic tapes Martin gave to me. Since this was recorded in the early 80s do not expect a high definition video. But it is nevertheless a good recording of Mendoza's lecture. The video has some flaws here and there with stripes, ghost images, and an occasional blackout. The audio track has no noticeable blackouts or problems. Despite these shortcomings it is a wonderful recording of Mendoza in his prime. He was merely 35 years old when this video was shot.
John Mendoza demonstrates and explains several stunning card magic routines from his professional repertoire, and finishes with his legendary chop cup and cups and balls routines, both demonstrated as well as explained.
The color changing deck

Ambitious 1, 2, 3, 4, 5

Zarrow Shuffle and application for red-black separation routine

Example for working around a stack: Cutting to the four aces (a simplified Derek Dingle's Open Sesame)

A gambler's dream: cutting to the four aces

The simple collection (a Roy Walton plot with an easy method)

Four queens changing to the four aces, with a climax queen appearing in closed card case

Queen assembly plus pointers for the Elmsley count

The invisible palm without the need for the D'Amico spread

Chop cup

Cups and balls
---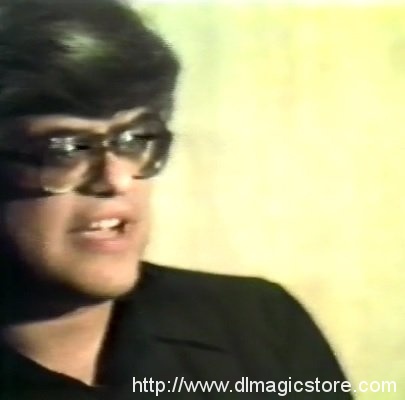 The following is the process you should take to complete your order through bank to bank transfer:
1. Please go to your bank (through online banking, ATM or going into a branch) and complete the transfer of money. Make sure that the amount you transfer is the exact total of your order. Payment details below:
- If your bank is located in Austria, Germany, Spain, France, United Kingdom, Italy, Netherlands, Belgium, Finland, Greece or Luxemburg you will pay to our WorldPay bank. You will see the bank details once you have placed the order.
PLEASE NOTE: If you are paying to our WorldPay bank you MUST include the Unique Payment Reference Number (you will receive this directly after paying the order) in the description section when completing payment to help us identify your order. Failure to do this will result in an unsuccessful transaction.
- If your bank is located in a country not listed above you will pay to our HSBC account. The details are below:
Bank Account:
Bank Code:
Beneficiary:
Bank Name:
Bank Address:
SWIFT Code:
PLEASE NOTE: If you are paying in this way you MUST write your Yourname order number in the description section when paying so we can easily recognize your payment. Failure to do this will result in a delayed or failed transaction.
2. When this is done, log in to your Yourname 'My Account' and complete the following:
Click 'Order list'
Click 'Pay'
Click 'Complete Payment' and fill in the related information for verification (This is an important step. If the information you have filled in does not match your bank details the payment can not be completed.)
Click 'Submit' to finish the procedure.
3. You will receive a payment confirmation email from us after your order's payment has gone through successfully. If you do not receive this email, please contact us here: http://www.dlmagicstore.com/help/
Please note that dlmagicstore will begin to handle your items after payment has been cleared.
All magic ebooks and videos are send via email .If the file already been upload ,we can send immediately . If not , we need 2 or 3 days to upload the file .