Genuine Amazement by Kenton Knepper
NAMED ONE OF THE TOP 10 BEST MENTALISM PRODUCTS OF 2012
Now with a live video talk by Kenton Knepper, as filmed in Las Vegas.
The start of Kenton's acclaimed "Magnum Opus" has arrived…
"People have been asking where I was in seclusion, and why. I said for decades I would ultimately begin to share my work on allusion, symbolism, indirect meaning and more in a tome. I finally wised up and turned my life work of this into a series. At last these secrets will be revealed and I believe they will change how mentalism, magic, props, suggestion, symbolism and even meaning itself will be viewed and performed."

"I believe GENUINE AMAZEMENT is and will continue to be as important as Wonder Words and the Mind Reading Lessons are to my legacy for performers, and how such works changed mentalism and magic forever. It's taken decades to be able to begin to release this material, but now it has begun."

— Kenton Knepper
From Bill, "Dr, Bill" Cushman:
"I wanted to tell you how much I am getting out of Genuine Amazement. And I'm only on page 39! Though I bought my copy I feel as if I've received a gift. Already you have helped me to begin to unravel some questions I've had since the day I decided to follow my path in mystery."
Kenton's 2011 talk at McBride's Magic and Meaning taken from this work was a huge hit for attendees. But that talk could only hint a little at what Kenton had to teach. GENUINE AMAZEMENT tells the full story behind this talk. Really, that highly successful talk was only a little taste of the real secrets.
Once again Kenton changes everything with this release. Mentalism and magic will never be the same, nor should they be.
Here is a bit of what you will find in this first eBook of Kenton's deeply cherished secrets on symbolism, metaphor, subconscious meanings and instant audience acceptance.
If you missed the talk, you will also get a special link in the eBook to that too, so you are actually getting a half hour video instruction and 100+ page eBook all in one.
The BOTTOM LINE: If you ever thought that making your mentalism or magic meaningful meant you had to be able to tell stories, preach, recite prose, do "bizarre magic" only, talk a lot, or say things that either bored audiences or made you personally uncomfortable, that's about to change for you.
In a single phrase, perhaps of only three words in length, you can create profound meaning, and in a way any audience will appreciate and happily accept. You will be able to say less, mean more, than most people working hard to "make meaning" in their performances.
You will learn Kenton's Masterwork on indirect meaning, suggestion, symbolic influence, and oh yes, some unusual tricks too…
In this very important life's work by Kenton you will learn:
Black Magic Bells
A funny yet secretly symbolic trick in which a freely chosen bell is decided (another free choice) to be the victor or the victim. The victor bell remains normal but the victim bell's clapper becomes glued and welded inside as a hideous mess! No sleight of hand or switches. All free choices. Seen on video but never explained until now. The best part we aren't even going to mention here. You'll see. It can change your entire act instantly.
Happiness is a Choice
A direct, simple effect, with profound subconscious and conscious implications. A participant decides to choose happiness, sight unseen, and the rest of the audience is left with their negative thoughts. Of course, they too are free to change that at any time!
By Meaningful Design
Often an opener or early part of Kenton's act, this is explained in full for the first time here. The first part you might be fortunate enough to know, but the real reason for performing this, and how, is tipped in this work at last. It's fooled almost every mentalist who saw it. Beyond that…well, you'll see what else is going on when you read it.
Objective Equivoque Reading
A secret bit of symbolic influence almost no one knows concerning making a force hit in equivoque. It is safe to say this will forever change how you think about an equivoque force.
Ed Underwood's "Hang Ups"
A colorful, visual, metaphorical reading that not only assures a reading in the audience will turn out to be correct, but you'll help them see their "hang up" or problem area be released right before their eyes. Fine symbolic magic and mentalism from a currently touring show.
The Thunderous Heart
Turn a standard blindfold trick into a deeply memorable performance. Your audience will be deeply moved by the idea and symbolism. You'll have learned the problem with blindfolds almost every other performer fails to perceive.
The Magician's Table
In a symbolic act with a surprising manifestation, a simple psychodramatic ritual becomes a tool for a participant to realize their dreams.
A Random Act of Genuine Meaning
Before your show continues a participant mixes an ordinary set of large placards or signs that serve as titles to your performance effects. The random mixing becomes your show order. The audience determines your show! That's what they think. You perform your set show as usual. No switches, sleight of hand, or gimmicks. One at a time the participant turns over a sign and you do that effect. The last card turned over says THE END or GOOD NIGHT! "It's mind control, or fate, your choice."
MORE effects and unique presentations throughout the book…
AND THAT'S NOT EVEN THE GREAT PART! The tricks, routines and special methods are pure Kenton and phenomenal to audiences, true. The best part of this work however is in the principles you will learn.
Learn How To:
Make your performances deeply meaningful without great effort.

Cause people to feel profoundly connected to you and your performance without consciously knowing why.

Use symbols and props as a way of engaging the subconscious mind of your audience.

Conscious Ruins: How making meaning conscious can ruin your audience rapport.

Emotional Deduction

Allusions and Illusions

How to force audiences to find their own meanings.

Performing as BOTH symbol and surface influence.

Meaning Seeds and Bombs

Indirect Meaning as a Disclaimer

Your Real Powers

The Mantra Meaning Approach

Using Images Indirectly
…and more than we could ever put into mere words.
While everyone follows Kenton's past releases and principles, Kenton is leading the pack in entirely new and breakthrough directions.
Kenton has once again chosen to change everything in mentalism and magic. The select few pros who were let in on some of these principles are already raving about Kenton's methods. The truth is ANYONE can use these principles, and apply them quickly to whatever they do, whether stage magic, mentalism, close up magic, a single trick, a whole act, or an entire persona.
GENUINE AMAZEMENT continues the legacy and tradition of Kenton's breakthrough works for mentalism and magic. Wonder Words got everyone rethinking words, suggestion and introduced the practical use of NLP in performance, not to mention ideas like Dual and Multiple Reality. The Mind Reading Lessons changed how readings and Mind Reading are performed. Kolossal Killer changed how card indexes and outs were managed. Now GENUINE AMAZEMENT changes mentalism and magic in ways beyond words.
PLUS get the FREE half hour video of Kenton's talk on some of this work at McBride's Magic and Meaning 2011.See how just a small fragment of this material entertains, fools and impresses the biggest names in meaningful performance. You'll have a private link to this material at our website free when you get this eBook. It's an additional reference to learn from as you read the full details and other material in this eBook. NOTE: There is a link to the video in the eBook. This is NOT a separate thing you have to download as a file.
Why so cheap? Like the Mind Reading Lessons don't expect this price to stay this low for long. Kenton wanted to be sure this Great Work began properly and was accessible to most everyone. We'll try to keep the price low to some degree but don't expect it to remain this low.
First Quotes About This eBook:
"Wow. Mind = BLOWN AGAIN!"
"The video alone is worth twice the price…and then when you get into the book!"
"FANTASTIC. You will be remembered for this, along with Wonder Words and the Mind Reading Lessons. My only complaint as a touring professional performer is that this is too cheap. It should easily be selling for $100 and more."
"Genuine Amazement is pure genius! This is one that I will be coming back to time and time again [and it's just the beginning]!"
— Sean P. Kearney
"Love, love, love it! Kenton Knepper's new book, Genuine Amazement, has me feeling fascination everywhere I look. The very best magicians and the very best writers work their magic *inside* people's heads, and Kenton shares several mind-blowing techniques for using extraordinarily simple language to gently force the brain to divine deep meaning in any given circumstance. Since reading Kenton's insights, I've been having a blast unmasking powerful verbal tricks all around me, from the infectious pop lyrics of Duran Duran to the idiomatic genius of James Joyce to the psychobabble of mind reader Derren Brown. I must warn of possible insomnia side effects — after finishing Kenton's book, my brain was so awake that I stayed up fully six hours past my bedtime!"
— Craig Conley
"I wanted to tell you how much I am getting out of Genuine Amazement. And I'm only on page 39! Though I bought my copy I feel as if I've received a gift. Already you have helped me to begin to unravel some questions I've had since the day I decided to follow my path in mystery.

Your 'disclaimer' is delicious! It accomplishes the goals of the "Chinese Menu" approach popular with so many of today's professionals but in just a few words and with far more style. At the same time, it has the symbolic quality and power of openings used by the best and most famous performers. It was at this point I felt I wanted to stop reading for a moment and tell you how much I'm enjoying Genuine Amazement. Just so you know." – Dr. Bill
GENUINE AMAZEMENT also made it into the "Top 10 Mentalism Products of 2012" by Jheff and Marketplaceofthemind.com:
Top 10 Best Mentalism Products of 2012:
Kenton Knepper, GENUINE AMAZEMENT, ANTI-TADA, DIRECT CONTROL
"These past few years it's been incredibly hard to pick the best of Knepper's work since he's been releasing quite a lot of great material. So I've lumped what I feel are the best of his releases from this year into one combined entry on this list, like I did for Bob Cassidy.

GENUINE AMAZEMENT and ANTI-TADA have important lessons for every mentalist. The effects which are presented are merely illustrations of these lessons, though they are very good effects nonetheless and worth studying.

DIRECT CONTROL is my favorite utility technique of the year and one that will probably be overlooked by many mentalists. It's a modern take on a classic force technique that can be applied to many different types of items and can be performed with nothing more than those items. No gimmicks, no preparation. It does take a little bit of practice to get the confidence and timing down, but this oh so very powerful technique is worth it."
---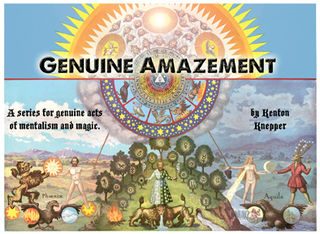 The following is the process you should take to complete your order through bank to bank transfer:
1. Please go to your bank (through online banking, ATM or going into a branch) and complete the transfer of money. Make sure that the amount you transfer is the exact total of your order. Payment details below:
- If your bank is located in Austria, Germany, Spain, France, United Kingdom, Italy, Netherlands, Belgium, Finland, Greece or Luxemburg you will pay to our WorldPay bank. You will see the bank details once you have placed the order.
PLEASE NOTE: If you are paying to our WorldPay bank you MUST include the Unique Payment Reference Number (you will receive this directly after paying the order) in the description section when completing payment to help us identify your order. Failure to do this will result in an unsuccessful transaction.
- If your bank is located in a country not listed above you will pay to our HSBC account. The details are below:
Bank Account:
Bank Code:
Beneficiary:
Bank Name:
Bank Address:
SWIFT Code:
PLEASE NOTE: If you are paying in this way you MUST write your Yourname order number in the description section when paying so we can easily recognize your payment. Failure to do this will result in a delayed or failed transaction.
2. When this is done, log in to your Yourname 'My Account' and complete the following:
Click 'Order list'
Click 'Pay'
Click 'Complete Payment' and fill in the related information for verification (This is an important step. If the information you have filled in does not match your bank details the payment can not be completed.)
Click 'Submit' to finish the procedure.
3. You will receive a payment confirmation email from us after your order's payment has gone through successfully. If you do not receive this email, please contact us here: http://www.dlmagicstore.com/help/
Please note that dlmagicstore will begin to handle your items after payment has been cleared.